SELF-HELP VIDEOS
Our Self-Help Videos are for people who are handling their legal problems without a lawyer.
Disclaimer
This website does not give legal advice, and it is not a substitute for having a lawyer. If you need more help, you can Hire a Lawyer or contact a legal services provider.
Self-Help Video Series
This video series will help you represent yourself well in court. You will learn how to draft a complaint, get a hearing date, serve the other person (or people) in the case, how to act and dress for court and more. Watching these videos can help you do your best in court.
Your Day in Court: What to Expect
This video will help you know what to expect in court. It also provides tips for your day in court and tells you what to do once you get to the courthouse.
Find more tips for getting ready for court on our webpage: http://www.msatjc.org/preparing for court.
Testimony: Telling Your Side of the Story
Telling your side of the story can be stressful and emotional. Watch this video for easy tips on telling your side of the story in the best way you can.
This is Not TV: What Court is Really Like
You will learn how to talk to the judge, how to tell the judge what you want in your case and how to handle the other side's questions (also called cross-examination). This video will tell you what to expect so you will be better prepared for trial.
COVID-19 Eviction Issues
This video will inform you about new eviction laws and protections adopted to help during the coronavirus pandemic.
For legal assistance with a COVID-19 eviction issue, contact the following organizations:
North Mississippi Rural Legal Services or the Mississippi Center for Legal Services Corp., 1-800-497-1804. The call center is open Monday-Wednesday 9:30-3:00.
Harrison county residents, call the MS Center for Justice 228-435-7284
Hinds, Rankin and Madison County residents can contact Mission First for assistance by filling out the online form at https://www.missionfirst.org/legal-aid-form
If you need help writing a letter to your landlord explaining that you cannot pay rent due to the COVID-19 pandemic, use this tool: https://www.norent.org/en/.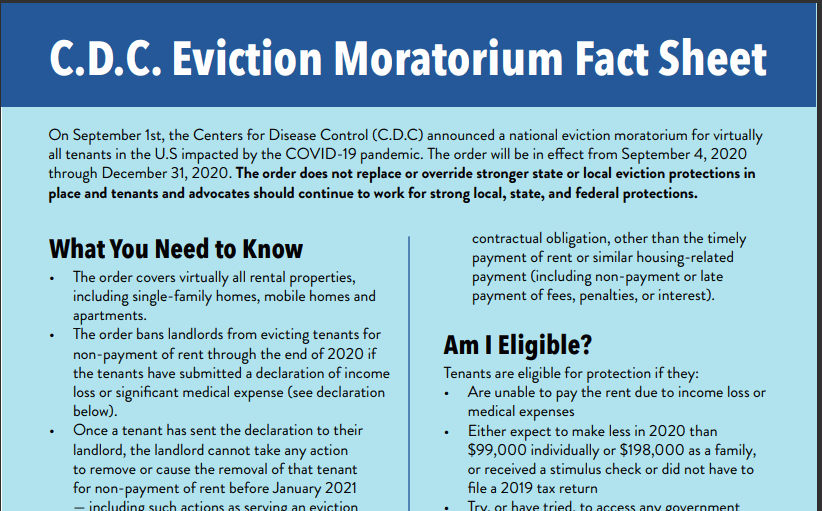 CDC Eviction Moratorium Fact Sheet
The CDC has announced a national eviction moratorium until December 31, 2020. Click here to find out more and to get the Declaration that you must give to your landlord to qualify.
Facing Eviction for Breach of Lease
This video discusses your rights and gives tips for court when someone is faced with an eviction for a material breach of lease.
Facing Eviction for Nonpayment of Rent

This video informs you of your rights when faced with an eviction for nonpayment of rent.
Security Deposits

This video explains when security deposits should be returned, how to get your security deposit back after you move and when the landlord can keep all or part of the security deposit.
The Fair Housing Act

This video explains the Fair Housing Act and when you may have a claim under this Federal Act. The Fair Housing Act prohibits sexual harassment in housing and bans discrimination of these protected classes:
Race

Color

Disability

Sex/Gender

Religion

National Origin

Family Status (children under 18 living in the home)
Repairs by Tenants: When the Landlord Fails to Make Repairs

This video explains when a tenant may make repairs and get credit on his/her rent. Watch this video closely BEFORE you make repairs to be aware of the conditions that must exist.